ITC-100 Frequently Asked Questions



Half-Duplex System
The ITC-100 is a half-duplex system, which means only one person can speak at a time, as audio is carried over a single wire both ways. It does not support full-duplex or party-line communication.


HP-1 and HP-2A Headsets
The headset cable is coiled and ranges in length between 3.5 feet relaxed, to 8 feet extended.

There are no in-line controls on the headset cable, those are located on the connected ITC-100SL beltpack.

The 3.5mm connector's pin-out is in the chart below.
Compatible 3rd Party Headsets
Many headsets will work with the ITC-100, but some professional sets have 4-pin XLR connectors. The Datavideo CB-8 adapter allows you to connect a 4-pin XLR headset to the ITC-100SL belt pack. The wiring schematic for the CB-8 is available in the second chart below.

To use a 3rd party 4-pin XLR headset with an Electret microphone, a small SDM of 1yf/1uf (for decoupling AC) will be required on the Jack Tip/XLR pin 2 cabling.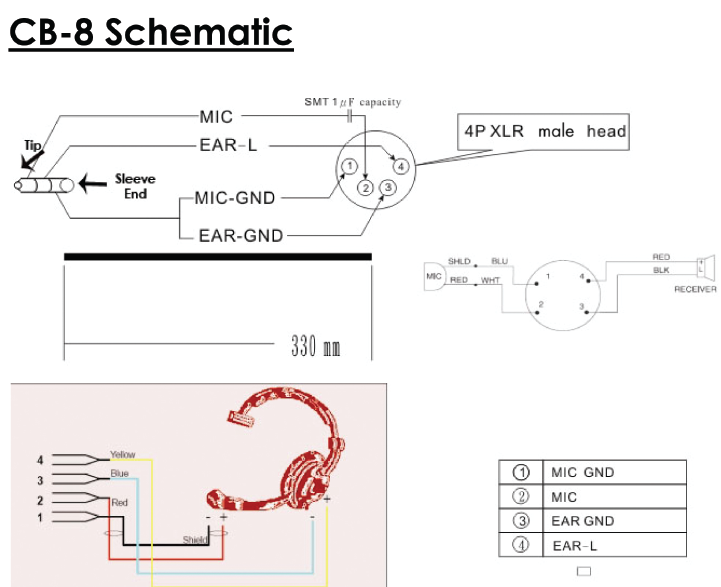 Wireless Option
The ITC-100 only supports wired communication.


Max XLR Cable Length
You can run 5-pin XLR cables between the base station and belt-pack at lengths up to 200 Meters.


Tally Pin-Out
Tally wiring information is in this article, which is an excerpt from the manual.


ATEM Intercom and Tally Compatibility
Please see this support article for more information.


Number of Conductors in Cable
The ITC-100 intercom cable utilizes 5 conductors and a foil shield. Datavideo offers pre-made cables in a variety of lengths. CB-3 (20 Meters/65ft), CB-4 (50 Meters/164ft) and CB-76 (76 Meters/250ft available only in the USA).





Wire Gauge
The 5-pin XLR cable conductors are 20 gauge wire.


How to Feed Program Audio
The ITC-100 does not feature an Aux input for your program audio, but one of our customer's designed a solution and detailed it in this video.


Audio Level of the 2-Wire Line: 0 dBm or -15 dBm?
1.67vP-P


External Speaker
You can connect a self-powered speaker to the ITC-100SL beltpack instead of a headset, but you will not have mic communication. Please note that you may experience some audio distortion depending on the volume setting on your speaker.


Noisegate
The ITC-100 has a built-in noisegate. This reduces the background noise in a busy environment to be heard when speaking, by not allowing low volume sounds to come through. The side effect is that it will also do that when you are too far from the microphone. That can be heard as interrupted speech or even no audio at all. Best way is to speak closely to the microphone or to use a headset such as HP1 or HP2 and keep the microphone positioned closely to your mouth.